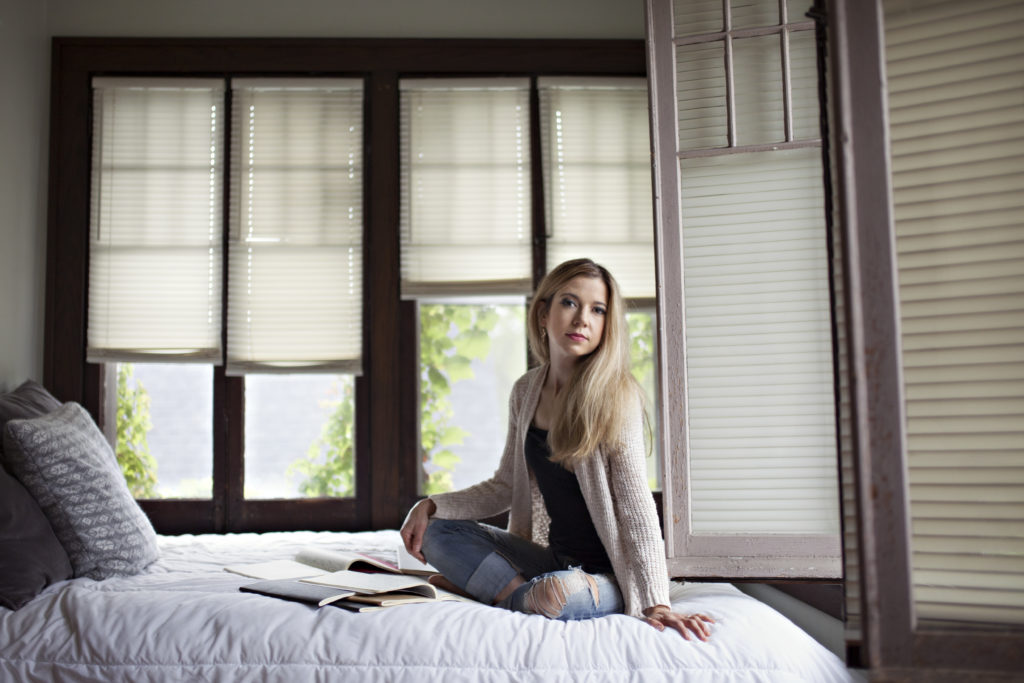 Sarah Morris has a habit of missing the forest. From the day the Minneapolis based singer-songwriter picked up a guitar, armed with the bone-deep memory of her parents' well-loved record collection and rooted in the storytelling fire of a Mary Chapin Carpenter tune, she's been too busy crafting love letters to the details of the trees. Sarah's endearingly honest, expertly penned songs encourage audiences to pull away from the big picture and get caught up in the magic of our everyday minutia, the rainy day ache in her sunlit voice granting us permission to escape into stories at once hauntingly familiar and uniquely her own.
A graduate of the Lawrence University Conservatory of Music, Sarah spent the first years of her career in Nashville, losing herself in the art of writing timeless Americana melodies. "Sarah Morris [is] a bright, clear, brilliant songwriter," wrote Jon Hunt of L'Etoile Magazine. "…pure and crisp and perfect." In the eight years since her 2011 debut album, Lonely or Free, Sarah's career, like her songs, has been overflowing with delicious details. Ordinary Things (2015)and Hearts in Need of Repair (2017), recorded with band mates Thomas Nordlund and Andrew Foreman with producer Eric Blomquist, earned international airplay and considerable critical acclaim, reaching notable positions on both the Americana Music Association and Euro Americana charts. In 2016, Sarah was a top four finalist in the NewSong Music Contest at Lincoln Center in New York City, 2nd place winner of the Chris Austin Songwriting Competition at MerleFest in Wilkesboro, NC, and an Americana semi-finalist in the International Songwriting Competition. In 2018, she went on to win the Kerrville New Folk Competition, collecting an honorable mention at the Telluride Troubadour contest along the way. "Rootsy singer Sarah Morris offers a Norah Jones-like approach to Americana, smoothing overs its rough edges with a butter-velvety voice and an intimate songwriting style." Chris Riemenschneider, Star Tribune.
Inclined toward the intimacy of live performance, Sarah spends a remarkable amount of time on stage. Whether solo, backed by the country kick of her long-time band The Sometimes Guys (Nordlund, Foreman, and Lars-Erik Larson), as half of vintage-harmony heavy duo The Home Fires with Vicky Emerson, or hosting local and traveling musicians live online from her big green bathroom, her playful-hearted presence is both captivating and contagious. Having played over 120 live shows in 2019 and opened for greats like JD Souther, Suzy Bogguss, and Teddy Thompson, she's had plenty of beautiful moments to revel in. And with a brand new album to share in 2020, she's primed to offer us a few beautiful moments of our own.
Scheduled for release in late February, All Mine is an unapologetically obsessive tribute to the details Sarah loves – rings of water on a dining room table, fingertips connecting in blush-heavy silence, the thrill-rush of wind in the seat of a swing. Anchored by the steady sweetness of her voice and the ready wink of her wit, All Mine leads us out of our hurry and into a stubborn indulgence in the intricate simplicity of it all. As writer, lover, mother, and witness, Sarah counts and celebrates the trees that make up the forests of all of our stories, names them worthy of our attention, and invites us all to get just a little bit lost.
Previous Performances:
Festivals
Minnesota State Fair – St. Paul, MN
Fischer Fest – Fischer, TX
Merlefest – Chris Austin Songwriting Competition, 2nd place – Wilkesboro, NC
Kerrville Folk Festival, New Folk Winner 2018 – Kerrville, TX
Roots, Rock, Rhythm & Blues Festival – Minneapolis, MN
Stone Arch Bridge Festival – Minneapolis, MN
Midwest Music Festival – Winona, MN
Silverwood OnStage – New Brighton, MN
Venues (Local)
Dakota Jazz Club & Restaurant (headliner & opener)
The Cedar Cultural Center (headliner & opener)
The Parkway Theater
7th Street Entry
Fine Line Music Cafe
Hell's Kitchen
Aster Cafe
The Hook & Ladder Theater – sold out release show
Bryant Lake Bowl – sold out release show
Lakeville Center for the Arts
Rieder Homestead
The Warming House
331 Club
Amsterdam
Venues (Outstate)
Lincoln Center, NYC (NewSong Music Contest, top 4 finalist)
Blue Rock Studios & Artist Ranch – Wimberley, TX
Sycamore Creek Concerts – Dripping Springs, TX
Open Arms Concert Series – Austin, TX
Reif Center – Grand Rapids, MN
Hotel Donaldson – Fargo, ND
Douglas Corner Cafe – Nashville, TN
Belcourt Taps – Nashville, TN
Uncommon Ground – Chicago, IL
Cafe Carpe – Fort Atkinson, WI
Crescendo Music Cafe – Madison, WI
The Root Note – La Crosse, WI
Leo & Leona's – Bangor, WI
Laughing Goat – Boulder, CO
Olde Glory Theater – Seward, NE
Hotel Utah – San Francisco, CA